Our Doctors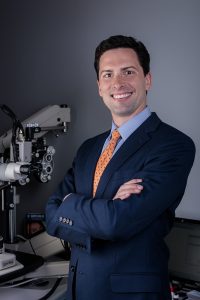 Dr Aaron McNulty, OD, FAAO
Dr. Aaron McNulty provides comprehensive eye care for all ages. His areas of particular interest include treatment of eye disease and the use of specialty contact lenses (such as Scleral Contact Lenses) for those who are unable to see with eyeglasses or traditional contact lenses.
Dr. McNulty was named the 2014 Kentucky Young Optometrist of the Year. He is a Fellow of the American Academy of Optometry, a Diplomate of the American Board of Optometry, and President of the Kentucky Optometric Association. He also serves as an advisor to eyecare and medical device companies. He is a member of the National Glaucoma Society and the Scleral Lens Education Society. He holds medical privileges at Bluegrass Surgery & Laser Center and is credentialed by the National Board of Examiners in Optometry. He is also an adjunct faculty member at the Oklahoma College of Optometry. Dr. McNulty lectures frequently about the treatment of eye diseases and the use of laser surgery in eye care.
A native of Owensboro, Kentucky, Dr. McNulty graduated summa cum laude from the University of Kentucky. He earned his Doctorate of Optometry at Indiana University, graduating with highest honors. He completed internships at Perry Point VA Hospital in Maryland, North Suburban Vision Consultants in Chicago, and Bennett & Bloom Eye Centers in Louisville. Dr. McNulty completed his residency in Tahlequah, Oklahoma, where he provided eye care for Native Americans at WW Hastings Hospital and served as the on-call emergency room eye doctor.
He and his wife, Leslie, have three young children and are parishioners at St. Agnes in the Highlands.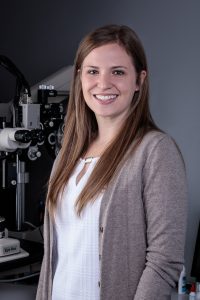 Dr Kate Ray, OD
Dr. Kate Ray is a Louisville native and graduated from the University of Kentucky with a Bachelor of Science in Human Nutrition. She earned her Doctor of Optometry from the University of Alabama at Birmingham School of Optometry. While earning her doctorate, she was the recipient of the Dr. Leser Caplan/CIBA Vision Corporation Endowed Scholarship and the Johnson & Johnson Vision Award of Excellence in Contact Lens Patient Care. Dr. Ray also was an involved member of the Beta Sigma Kappa International Optometric Honor Society during her time at the University of Alabama at Birmingham. Dr. Ray completed her residency in Ocular Disease and Low Vision Rehabilitation at the Kansas City Veterans Affairs Medical Center.
Dr. Ray will join Dr. McNulty in providing comprehensive eye care for our patients of all ages. Dr. Ray's specialized interest includes Low Vision Rehabilitation, which will be an exceptional addition to our services at Louisville Eye Center.
Dr. Ray is a member of the Kentucky Optometric Association, the American Academy of Optometry, and the American Optometric Association. Dr. Ray is excited to be living back in Louisville with her husband, Fletcher, and their dog, Sally.
Dr Elliott Rosengarten, OD
Dr. Elliott Rosengarten has retired after practicing optometry in
Louisville for 25 years. We wish him the best in his well-deserved
retirement.